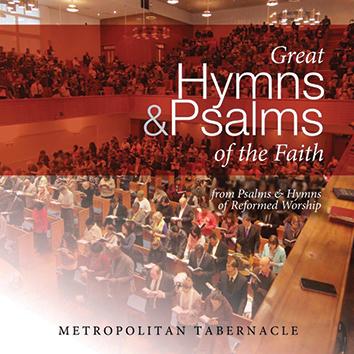 The glories of 'traditional' praise are often swept aside by 'contemporary' compositions lacking depth and spiritual quality. This selection of 26 well-known hymns includes many sung to tunes of recent composition, or older tunes revived in recent years.
All are from the Metropolitan Tabernacle Sunday services. Here is inspiring, heartfelt worship by believers of all nationalities.
The CD is provided in a case with a booklet with the words of each hymn.
All hymns and tunes are from Psalms & Hymns of Reformed Worship
[Cost: £5 including VAT]
Thou art the everlasting Word
Logos
I once despised and scorned the name
Sunrise
Omnipotent Lord, my Saviour and King
True Adoration
Not, Lord, Thine ancient works alone
Innsbruck
O God, what offering shall I give?
Adorning
Praise to the Lord, the Almighty
Hast du denn, Jesu
Loosed from my God, and far removed
Peniel Prayer
Sing to the Lord through all the lands
Zephyr
The Lord my Shepherd is
Gwengar
Give thanks to God Most High
Arthur's Seat
Alas! and did my Saviour bleed?
Debt of Love
God is our refuge and our strength
Ellacombe
Arise, my soul, arise
Rhosymedre
Praise, my soul, the King of Heaven
Praise my Soul
I bring my sins to Thee
Open Fount
Join all the glorious names
Darwall's 148th
Redeemed from guilt, redeemed from fears
Rothwell
O praise ye the Lord
Laudate Dominum
Lord, if one moment Thou Thy face shouldst hide
Regeneration
How shall I praise the eternal God?
St Magnus
More gratitude give me
Fortitude
Jesus shall reign where'er the sun
Rimington
Leave God to order all thy ways
Trust
When this passing world is done
Wells
Thou hidden source of calm repose
Pater Omnium
God is in His temple
Gröningen